Servicing Hazardous Environment Motors
Breakaway Group is certified to industry standard AS/NZS 3800:2012
SAI Global Certificate No.: PS140043
The objective of this Standard is to establish specific requirements and give technical instruction on the repair, overhaul, reclamation and modification of equipment designed for use in explosive atmospheres.
 Breakaway Group is an accredited and recognised service facility under the ANZex scheme for the repair, overhaul and modification of all Ex 'd', Ex 'e', Ex 'n' and Ex 't' electric motors. Breakaway Group has experience in all aspects of inspection and refurbishment of hazardous area motors to certified industry standards.
Breakaway Group carries out a number of detailed component inspections which may include
__________
Surface finish deterioration
Thread condition
Score marks on flame path
Signs of previous repairs
Thermal insulators
Cracking on component parts
Precision measurement
Recording of all dimensions and faults
Pressure testing
Breakaway Groups refurbishing process may include (but is not limited to)
__________
Thorough cleaning of all components
Verification of dimensions against standards, drawings and certificates of compliance
Complete dismantling of the machine and its components
In depth inspection of all components
Record and reporting of all dimensions and faults
Breakaway Group also offer a wide range of low, medium and high voltage Hazardous motors for various industries and have a range starting from 0.18kw upwards.
__________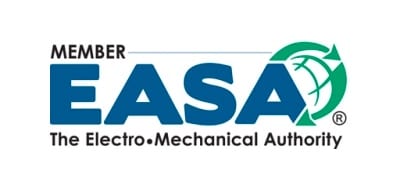 Breakaway Group is an Active Member of EASA and is certified to SAI Global Standards:
- AS/NZS 3800:2012 Certificate #PSI40043
- ISO 9001:2015 Certificate #QMS40147